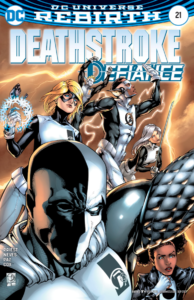 Everyone, especially my comic friends, are thrilled to know that Deathstroke will indeed address who killed Etienne. So good news; you won't read or hear me on the podcast bitch about this unsolved mystery anymore. They are going to address it, and thank God for that. I know everyone was tired of hearing me rant about it, but I was tired of ranting about it. Who knew it would take the formation of Team Defiance to push that along.
Much to my surprise, that brunette I was trying to sort out from the last issue really is Adeline. The only reason why I think she would be there is to look out for Joey. He's the only person she likes out of the entire bunch. She hates Slade. She tolerates Wintergreen. She loathes Rose. I doubt she cares about anyone else on the team. Yet she's here, and apparently she's the reason why this team even exists. She's pulled strings with the CIA for funding, but Adeline has zero interest in what goes on with the team. Mama Bear has her own not-so-hidden agenda.
Everyone has their own hidden agenda for this team, except for Kid Flash and maybe Power Girl. They're both there to learn, although Power Girl may also keep one eye on Slade. Rose is there to be with her father and Joey. It also helps keep her safe from Adeline's next murder plot. Joey is there to see if Slade really killed Etienne. Rose is sure he did, and even if he didn't, Rose might have when everything spilled out in the open about her. Joey, however, isn't as convinced. He believes that perhaps their father really has turned over a new leaf. Perhaps he isn't lying about Etienne. Either way, Joey wants to give Slade a fair chance.
And here's where things get quite interesting. Adeline lets Wintergreen know about her own agenda, which I find amusing on several counts. I'm surprised she trusts Wintergreen to not run to Slade about this. But if she does trust him, does this mean Wintergreen is really done with being Slade's Jiminy Cricket? I have a hard time believing that, with everything those two have been through. Or could it be that Wintergreen is here to keep both parents in check? Even if Wintergreen is through with Slade, I know he will still help Slade's kids no matter what. He'll protect them from both Slade and Adeline where he can.
For example, Wintergreen knows that Slade didn't kill Etienne. He says Adeline knows this as well as he does. Wintergreen seems rather prepared to let some whistle blow if need be. Oh it would be delicious if Adeline killed Joey's fiancee. She hasn't entirely painted herself in a fabulous light, especially since she's brought on Terra strictly for betrayal purposes.
Dear Lord this comic is so delightfully twisted. Between Adeline's motives, the pulp fiction-like storytelling, and Deathstroke causing crises just to have an excuse to train the team, we're all in for a wild ride. I couldn't be happier I picked up Deathstroke on a whim.
Our Rating: YUS
Author: Christopher Priest
Artists: Rafa Neves, Jason Paz, and Jeromy Cox
Publisher: DC Comics
Publish Date: 07/05/2017
Acquired via Purchase