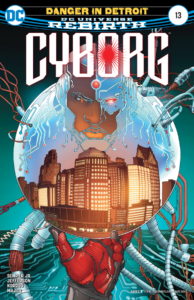 After being trapped in an alternate dimension for six months, Cyborg has dropped back into Detroit. Thankfully, Anomaly hasn't taken over yet, but in just six months' time, Detroit almost looks like an alternate universe. Crime is worse than usual, Anomaly has really progressed with his project, and a new superhero, the Black Narcissus, has graced the streets. Cyborg definitely has his hands full if he's going to stop Anomaly. At least he has Exxy and Black Narcissus to help him.
Of course I can't forget Sara. She's his only link on the inside. She learned from Variant that her boss is most certainly NOT Dr. Stone, and she's doing what she can to help Vic. Yeah, that doesn't sound like a trap at all or anything, right?
Strangely, that's not the only crazy idea lurking inside. At least the writing is still incredibly top notch, which softens the blow of the ridiculousness.
Sara told Vic that Anomaly was going to make a move against him soon, but she didn't know when. So when a random ninja villain named Fyrewyre shows up, Vic assumes this is the guy and the time is now. Unfortunately, Cyborg is powerless against Fyrewyre, thanks to the ninja's quantum technology. At least Cy still has his wit to fall back on.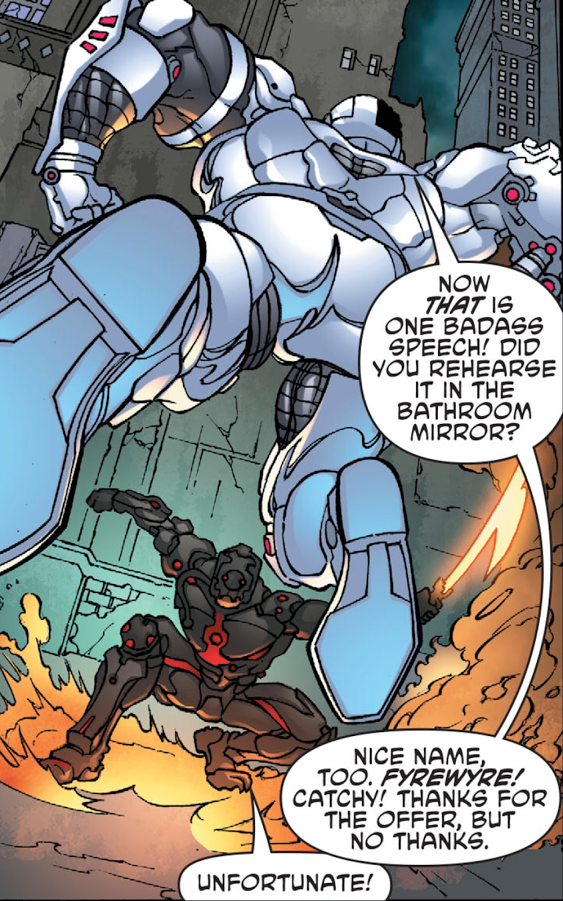 It's a good thing he made friends with Black Narcissus, because her tech is also quantum technology. In fact, she is the head of R&D at the company that makes it. She upgrades Vic's tech a bit, and then they sit and wait for Fyrewyre. It turns out that she has a bit of a vendetta against the tech thief. They catch him, and as Narcissus prepares him for prison, Vic gets a call from Sara that Anomaly has suddenly left the lab. This is the only time she can sneak him into the lab.
Still totally doesn't sound like a trap, right?
Rather too late, Narcissus learns that it wasn't Anomaly who hired Fyrewyre to dispatch Cyborg; it was Detroit's crime lords. Right about then, Anomaly springs his trap on Vic in front of Sara and Exxy. Oh yes, he had all of this planned, from Variant warning Sara to pretending to be out of the office. While he does want to use Vic to eliminate all humans and bring in the age of the machine, he has another goal at the top of his priority list. He has a voice in his head, and always has. This voice told him to kidnap Dr. Stone, build the singularity to wipe out humans, etc. He wants to give this voice a body.
I'm really curious where this is going to go.
The art in Cyborg has always been great, but this month's issue really kicked it up a few notches. I hope to see more of this coloring style in the future, and I want to see more of Semper, Jr.'s humor.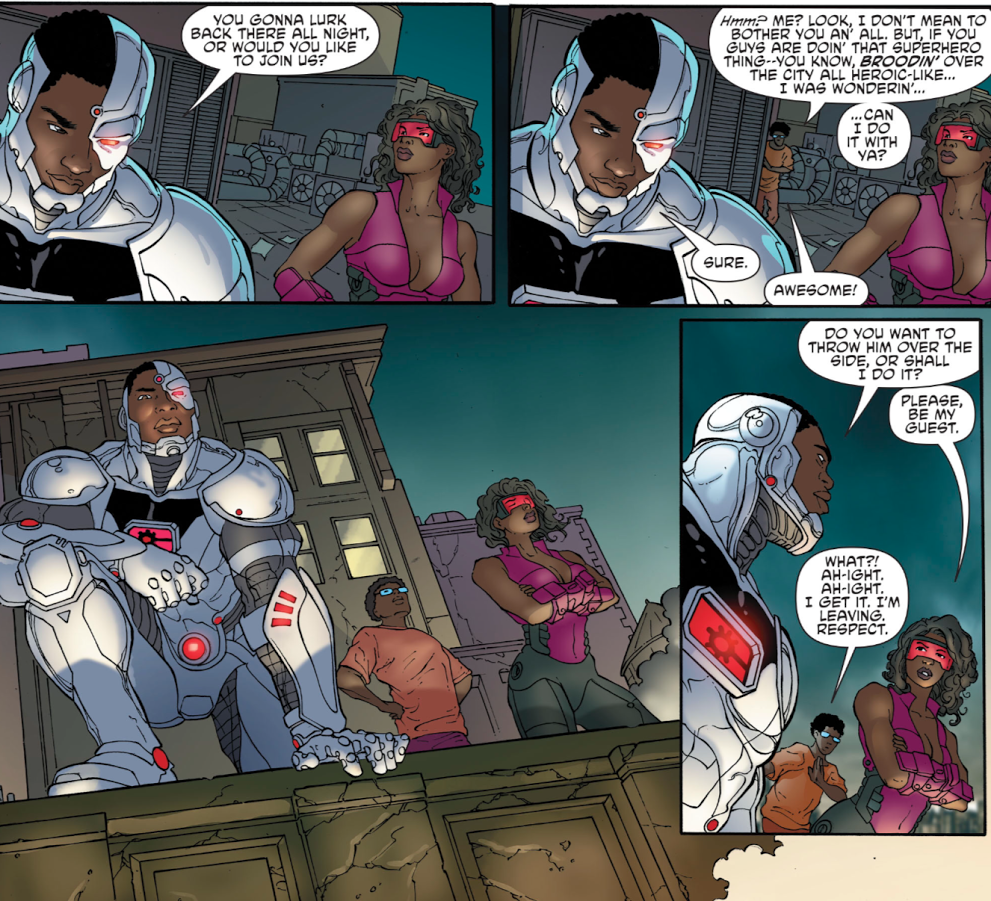 He always knows the right amount of humor in his books. It's not so much that it reads like Deadpool, and not so little that it's dull. With the zany plot of this series, it needs humor to separate the reader from fully embracing how bonkers this all is.
Our Rating: YUS
Author: John Semper, Jr.
Artists: Allan Jefferson, Tony Kordos, and Guy Major
Publisher: DC Comics
Publish Date: 06/07/2017
Acquired via Purchase