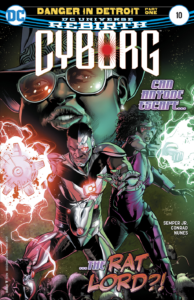 Cyborg issue #10 appears to start a brand new arc with its new title. I was afraid I missed something, but I didn't. Anomaly still has Variant and Dr. Stone prisoner. He's still posing as Dr. Stone, and Cyborg still has that deadly virus running through his circuitry. I'm not exactly sure why the arc name has changed when the underlying story hasn't, but here we are. Gotta go with the flow like this issue goes with rats.
Yes. Rats. Run by a Rat Lord. His name is actually Rizzo Rattama, and he's not as cute as the Pokémon. Neither are his rats.
I suppose I should be thankful he's not Lord of the Cockroaches. Don't get any ideas, Semper.
But he comes later.
The issue starts with Cyborg and his delinquent friend Exxy on the run. Anomaly has put an APB out on Cyborg, telling everyone that he's been infected with a virus that has made him hostile. Exxy has been stealing equipment to try to fix Cyborg, and he was caught by a new superhero gracing Detroit, the Black Narcissus. After hearing their story, of course she agrees to help any way she can.
On the other side of Detroit, Anomaly tries to absorb Variant's tech, but he's blasted out before he can get it all. This is when we learn that Anomaly hears a voice in his head, and it's this voice that has been telling him to do all this before he wipes out mankind. He's almost like the Son of Sam, just without the dog telling him to murder people.
But wait, things haven't gone that weird YET. This Son of Sam voice tells Anomaly to find Cyborg using "organic" means. For whatever reason, they decide to call on the Rat Lord for help. He sends the nearly 4 million rats through Detroit to try to find Cyborg, and find him they do. The last panel is one of nightmares, and now I have to wait a month to find out how Cyborg gets out of this scrape.
Issue #10 isn't as powerful as prior issues have, and it's definitely taken a left turn at Albuquerque. Can't say it's not interesting, that's for sure. I am worried that Black Narcissus is only going to serve as a love interest for Cyborg and not stand out as her own character. Her presence is just too convenient with this arc. I would love to see her stick around, just as long as she's more than a romance plot. We have way too many of those in comics as it is.
Our Rating: Yep
Author: John Semper, Jr.
Artists: Will Conrad and Ivan Nunes
Publisher: DC Comics
Publish Date: 03/01/2017
Acquired via Purchase