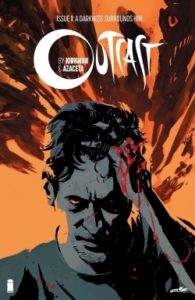 Unlike so many comic fans, I have never worshiped at the alter of Robert Kirkman. I understand the appeal of The Walking Dead, and have always admired him for what he's done for the medium, but I, myself, was never a fan of the series. Which is a long way of saying when Outcast was first teased, it didn't tempt me. OK, Kirkman has another horror series out, and people are saying it's going to be good. People also really like TWD, and prolific authors tend to get a lot of fanfare regardless of the quality of a new series. So, I didn't get it.
Over the weekend, I went on a comic purge and unsubscribed from a lot of series that weren't bowling me over. I then went on the hunt for a new series that might grab me. Outcast's first volume was on sale for $7.99 so I figured why the hell not and bought it. That was around 9:30pm on Saturday night. I stayed up until midnight and spent $40 to get caught up on the entire series. It's. That. Damn. Good. It's also testament to both how versatile Kirkman is, and how very wrong I was to doubt the praise of this series.
As a series, it's fairly straightforward: Kyle Barnes is a man who is haunted by the possession of his mother, when he was a child. Reverend Anderson is plagued by the unusual number of exorcisms he has had to perform in his rural Virginian community. Together, they team up to both rid the community of its evil presence, and to learn why this is happening.
Naturally, being Kirkman, things are much, much deeper than either of our main characters suspected. The story has evolved to much more than the standard good vs. evil, or even the standard Heaven vs. Hell story. To be honest, I picked it up because I thought it would scratch my Hellblazer itch (despite being an atheist, I have a very strong love of stories involving good vs. Christian evil archetypes). In many ways, it does exactly that, but Kyle Barnes is no John Constantine, and that's a good thing. He is, at turn, much more dynamic, and much more complex than the Hellblazer. Nor is this Supernatural.
Kirkman is already creating a very robust universe that keeps us, as readers, constantly guessing. Just when I think I have things figured, the main antagonist, Sidney, says something that throws me for a loop. And what an antagonist Sidney proves to be. Unlike so many in his shoes, in similar style stories, Sidney is entirely in control of both himself and his plans. There's an oddly admirable refined nature to the adversary, and much of the plot progression rests upon his sinister, dapper shoulders.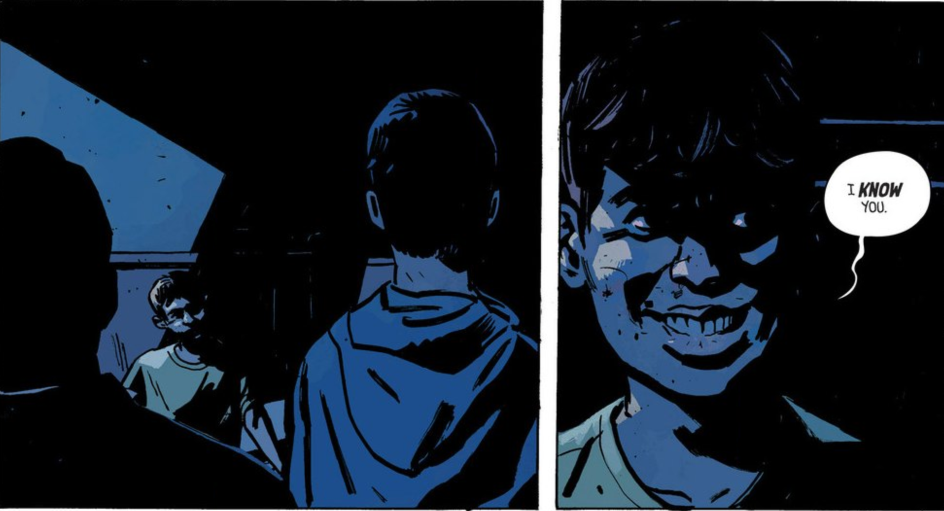 The story is undeniably within the horror genre, but my sole complaint is that Kirkman himself has undermined most of the "bite" in the story. The initial issues are undeniably creepy and create an air of uncertainty and horror as we learn about Kyle, his powers, and the world of this Southern Gothic tale. However, around issue fifteen or sixteen, as we learn more and more about what may or may not being going on, a lot of the horror is stripped away and is, instead, replaced by a sense of intrigue. In other words, I'm no longer scared of the possessed denizens so much as highly intrigued by them. From a horror perspective, I'm not sure that's the best place for your readers to be.
It should be noted, though, that neither Kirkman nor Azaceta seem very concerned with the lack of scares. The series has, since inception, been more of a fan of the dark, oppressive nature of the story as opposed to how creepy it is. Granted, Azaceta's art has made for a decidedly unnerving look and feel, but even as the actual scares vanish, there's a claustrophobic feel to the characters and environment. It's effective as a mystery, which may be what the story is really about, as opposed to an actual monster-closet scare.
I feel really, really dumb for not having believed the praise around this series from the get-go. I'm pleased that I've finally gotten into it in the 24th issue — especially given that Kirkman has promised there is much more to come, but not too much — but I curse my lack of belief. Which is both ironic and appropriate, given that Kyle is also cursing his unbelieving nature as he travels down this dark rabbit hole. Join me in this series, won't you?