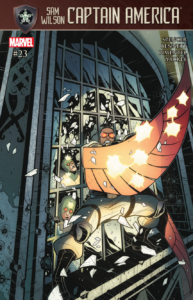 Turns out I should have read Captain America: Sam Wilson #23 BEFORE reading Secret Empire #4. This issue of CASW explained exactly how Sam has been helping inhumans and other refugees escape. If we're being honest, I kind of didn't care how he was doing it. I would have been far more pleased with an issue regarding what Sam did after their Thanksgiving dinner with Pym/Ultron.
But this is where we are, and the goings-on of how they escaped the city will have dire repercussions later. I already had a feeling Sam wouldn't be able to help inhumans escape after Stevil saw him definitely not dead and running around with the Underground Avengers. Now I know he won't be able to help them. If does, it won't be how he used to, that's for sure.
So how was he helping them escape the US? He literally used an underground railroad.
An old subway tunnel in New York magically leads into Montana. Magic created the route, and Dr. Strange fixed the broken magic that created the tunnel in the first place. The train still runs thanks to Strange's magic, but very few people know about it. One of them is Sam's friend Dennis, who was there when the tunnel was magicked. He passed the info to Sam, and now the Underground knows about it.
Not that it matters, because they won't be able to use that tunnel anymore. The Avengers have a nasty habit of shooting first and asking questions later. When they saw giant creatures approach them in the tunnel, they instinctively attacked. They had no idea they were the Mole Man's pets and Sam struck a deal with him to allow safe passage to the other side. Matters only worsened when Hydra's Dreadnoughts followed the Avengers into the tunnel.
It's astounding how much trouble the Avengers put Sam in when they asked for help. Thanks to Hydra keeping tabs on the Avengers, they've ruined Sam's passage through the magic tunnel. Then they lied to him about where he was taking them. He never would have agreed to take them to Ultron's island if he had known.
Sam is going to have a decision or ten to make. Is he going to stay with the Underground, take back up the Shield and all that jazz? Or is he going to crawl back into hiding? An even better question is what will Misty let him do? I doubt she'll let him go hide again. She'd probably be thrilled to join the Underground. Lord knows they need all the help they can get.
Our Rating: Yep
Author: Nick Spencer
Artists: Joe Bennet and Joe Pimentel
Publisher: Marvel Comics
Publish Date: 06/14/2017
Acquired via Purchase