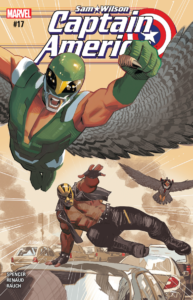 Last month, Misty Knight took the stage front and center to stand up for women wrongfully accused and then wrongfully shamed for sexual videos. Now it's Falcon's turn to take the stage against an obvious jab against Ann Coulter. Don't get me wrong; Ann Coulter deserves every jab she gets, and I'm saying this as a conservative. What's so great about Falcon and Rage waging war against her is that it fully confronts how detrimental extremism is. It doesn't matter which side of the political fence you live on, extreme measures help no one. Falcon and Rage once held rather extremist thoughts, just a few issues ago. This month, they see just how harmful these radical views really are.
It's so incredibly delightful.
This not-Ann Coulter (NAC from now on) is loudly perpetuating a scenario for kicking out immigrants or barring immigrants into America. While the real Coulter does her best to not say out loud that what she wants is a white America, NAC doesn't bother being subtle. It was infuriating for me, a white woman, to read her rants o' crazy and also realize this is how so many other people see the white population. I wanted to jump in with Falcon and Rage and take her down a notch or two, especially when she flat accused Sam of "letting" that Senator die.
I also do really love Falcon's priorities as well as taste in burgers.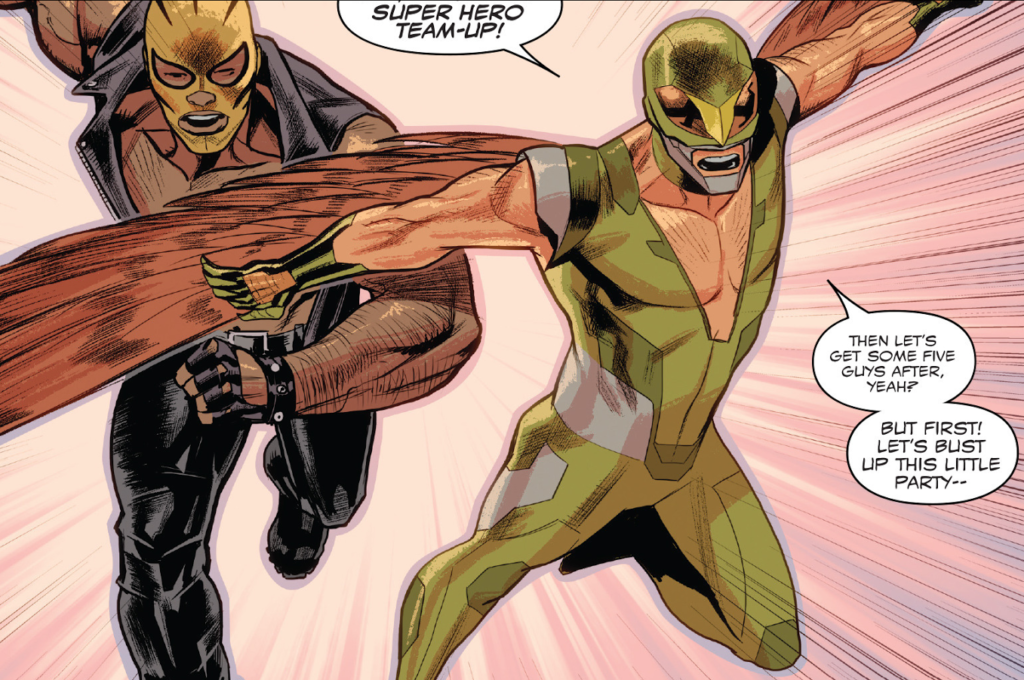 Falcon and Rage are crashing a University lecture to protest NAC's extremist point of view. To their delight, they aren't the only ones who want to stop NAC's hate. To their consternation, these other protesters aren't any better than she is. I am including this entire page from the issue because the whole thing is too funny not to. I greatly appreciate all jabs at social justice terminology as well.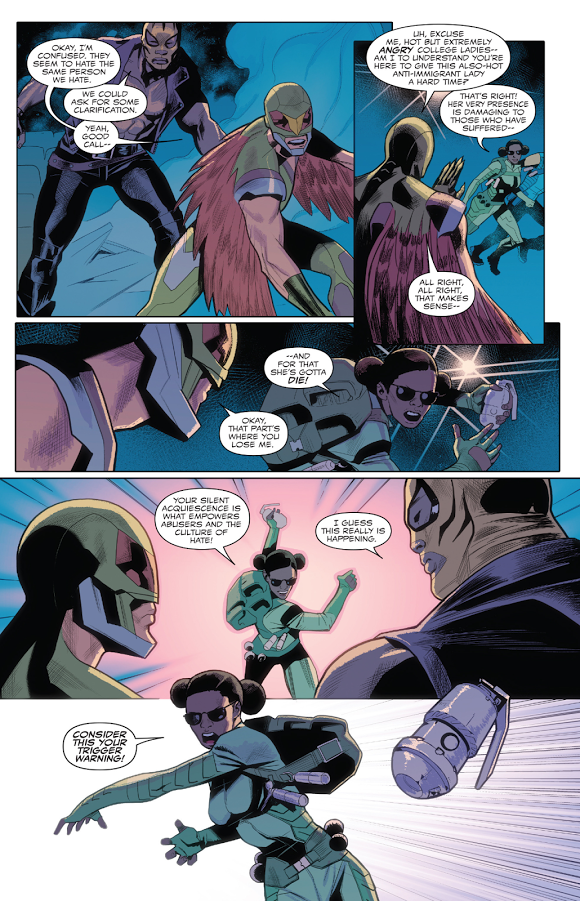 I don't know what else to say than if you're not reading Captain America: Sam Wilson, you need to re-evaluate the comic priorities in your life.
Our Rating: YUS
Author: Nick Spencer
Artists: Paul Renaud and John Rauch
Publisher: Marvel
Publish Date: 01/04/2017
Acquired via Purchase