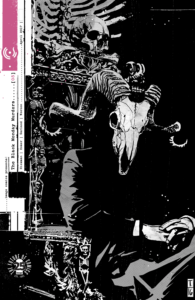 There's never a dull moment in the twisting netherworld of The Black Monday Murders, is there? This new arc starts out with a slow burn of action, but a whole ton of information is thrust our way. In other words, The Black Monday Murders #5 is light on murder (which is actually an important note where this series is concerned), but heavy on intrigue.
Most notable is that our good detective is finally starting to seek answers. Which makes me love both the character, and Jonathan Hickman that much more. This isn't the stereotypical detective who waits until it's too late to seek counsel. Nor is he the type to balk at the crazy information our Demon Banker Expert* is sharing. Probably because our characters exist in a world where it's just crazy enough to be true.
The series hinted, earlier, that Dumas grew up with a grandmother who practiced voodoo and believed in it. Despite a calm exterior, Dumas reveals in this issue that he very much believes in the dark forces that powered this magic. Earlier issues even suggested that perhaps Dumas himself is "touched" by this magic. The best part of all this is that through Hickman's dialog, it all feels very believable and grounded, as opposed to fantastical and silly.
Meanwhile, not all is sunshine and rainbows for the board of the bank. The Rothschild seat appears to be even more complicated than initially shown. It appears that Daniel was siphoning money into a secret account for charity. I'm not what the more egregious crime is — that he was stealing money from Mammon, or that he was stealing for good deeds. Either way, it's starting to make sense why he was killed in the manner that he was.
Viktor is proving to be quite the wild card, though. Despite knowing that he killed Daniel, we're not offered much information on Viktor other than he holds the Stone Chair and kills on a whim. It appears that his story is deeper than I originally thought. He seems human, and yet wields the same power as the demonic familiars we've encountered. I have no doubt his mysterious two-year sabbatical involved more than a beach and piña coladas. (and getting caught in the rain…)
I love this series. It's heavy and dense (this is not a breezy read), and yet delightfully nuanced. There is mystery and horror lurking in every heavily shaded panel, and the rabbit hole gets darker and darker the further we go. I'm not yet certain where this is going, only that I'm pleased to be along for the ride.
Our Rating: YUS
Author: Jonathan Hickman
Artists: Tomm Coker
Publisher: Image Comics
Publish Date: 04/26/2017
Acquired via Purchase
*Not his real name and/or title, but by God it should be. Also, I want business cards that say that.