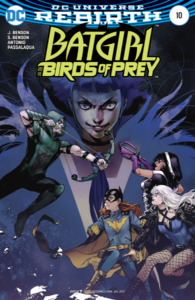 Dinah is in a heap of trouble. After she tried to warn Owen about Blackbird's true intentions in teaching them how to improve their powers, he decided he could overpower Blackbird by himself. He has the ability to control minds, and he was a little over confident in his abilities. Blackbird stole his abilities, and then used them to control Canary. She doesn't want to rip her powers away just yet, not before she can take down her teammates.
Since she's been dark for a few weeks, her teammates are worried about her. They had to pry Ollie off of a terrified and powerless Gemini, as he was threatening to kill her to learn where Canary was. Huntress then phoned in Nightwing for assistance, and all four, with Gemini navigating, head off to find Blackbird and Canary.
Black Canary isn't the only one who is in trouble; Oracle is having a few problems of his own. After he was accepted into the fold, he's seemed to have some untrustworthy secrets of his own.
The group, including Oracle via a drone, tracks Canary and Blackbird to the Clock Tower, which Canary has greatly damaged. Oliver is so excited to see Dinah unharmed, he doesn't do his proper super hero duty. Thankfully, we have Batgirl, the police commissioner's daughter trained by the world's greatest detective, who knows how to make sure a room is clear. After two questions, Barbara sees through Blackbird posing as Canary. Her right hook was amazing, as were the looks on Nightwing's and Green Arrow's faces.
Thanks to Huntress' connections to Spyral, they took down Blackbird and rescued Canary. We knew they would. What was probably the best part of this whole rescue mission is the fact that four people with no meta abilities took down a woman with a plethora of meta powers. Next best part was Canary staying behind with her friends to celebrate while Oliver goes back to Seattle. She chose to stay with her true rescuers and not a knight in shining armor. I think that's what I love the most about this team.
They invite Oracle to the celebration as well, but he's not feeling so great. We've seen him pop pills in the past to get himself together, but now he's out. A mystery person has been supplying him this medication. He tells Oracle that he'll get more meds once he arranges a meeting with the Birds of Prey. Many questions arise from this, not including who this stranger is. What is this medication for? Is Oracle actually trustworthy? Has this all been a ruse from the beginning?
I really hope he's not a bad person and he stays around. He supplies the subtitles for all of the scenes, and they're one of my favorite facets of this whole series.
Our Rating: Yep
Authors: Julie Benson and Shawna Benson
Artists: Roge Antonio and Allen Passalaqua
Publisher: DC Comics
Publish Date: 05/10/2017
Acquired via Purchase