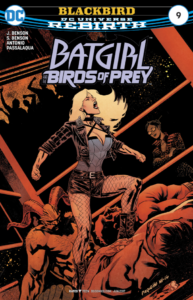 We have a LOT of birds up in here. A new villain named Blackbird is bringing metahumans under her wing and teaching them how to refine and enhance their powers. When they reach their peak, she takes their powers away and leaves them as regular humans. I seriously wonder if she's been talking with the Fearsome Five in New York. Big difference between the two of them is that the Fearsome Five is selling the powers they take to the highest bidder. Blackbird is keeping them all to herself to essentially become the most powerful metahuman in the world.
Black Canary volunteered to go undercover and get close to Blackbird, which ended up being easier than she thought. One night of fighting in Blackbird's ring, and she was tapped to join. Canary was then pulled into a secret school with other metas Blackbird brought in. At the start of issue #9, Black Canary has been a student for two weeks. During that time, she hasn't reached out to the other Birds of Prey or anyone else. No one knows where she is or what she is doing. Even undercover police are able to check in with their superiors.
The fact that Canary hasn't may be what saves her life and her powers.
Canary hasn't checked in because she hasn't had much to report. Most of the time, she's in "class" learning new ways to use her powers. Despite being a hero for most of her life, Dinah actually learns new tricks with her cries. She's thankful for that, but it doesn't stop her from patrolling the halls at night, hoping to catch something sinister about Blackbird.
One night she witnesses Blackbird stealing a student's powers, which was not what Canary expected. She thought Blackbird was building an army of metas; she never thought that Blackbird was turning herself into an army of metas. Dinah would have been able to escape that very night if she didn't run into another student and confide in him what was really going on. Black Canary is in serious trouble, and now she only sings for the Blackbird.
Fortunately she has her girls looking out for her, a boyfriend who is extremely worried about her (Almost makes me want to read Green Arrow again. ALMOST.), and an ex-boyfriend of her girls who's willing to drop everything at one phone call. We're going to have so many feathers flying next month. I expect to be heartily entertained.
Our Rating: Yep
Authors: Julie Benson and Shawna Benson
Artists: Roge Antonio and Allen Passalaqua
Publisher: DC Comics
Publish Date: 04/12/2017
Acquired via Purchase