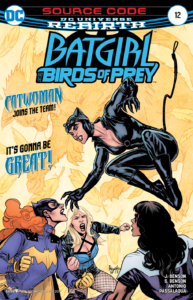 Never really have been a fan of Catwoman. The best part about her is all of the puns readily available thanks to her name. For the most part, I've been pretty meh about her. The only time I ever appreciated her was when Anne Hathaway played her in The Dark Knight Rises. You have no idea how much it pains me to say that.
Her presence in Batgirl and the Birds of Prey was mildly irritating, but at the same time, it does make some sense to have the most famous female villain of DC join team girl squad for an issue or two. I was prepared to hate it on some level, and I came away pleasantly surprised. The Benson girls worked her in brilliantly, and I have no idea why I could possibly think they would not. From how Batgirl got Catwoman to meet with them to her witty one-liners, Catwoman romping with the Birds of Prey was the delight I desperately needed after Flash. 
In case you haven't been reading Batman (of which I have not but Larry is so free with details), Bruce has rekindled his on-again-off-again relationship with Catwoman. Once Batgirl pieces together that Catwoman was the thief the Calculator helped, she makes one phone call to Bruce to make with the cat-call. From there, hilarity ensues.
At first, Catwoman has no interest in giving them back the diamonds she stole, but when hostages are mentioned, she changes her tune. However, it's then that she lets them know that she was not hired to steal the diamonds. She pilfered those on her own while she was stealing a formula for Poison Ivy. That's really what the company is after. It turns out that this eco-friendly business isn't so eco-friendly at all. I never would have guessed that at all, coming from a company that would kidnap an innocent family. And, well, we all know how Ivy feels about those who are not eco-friendly.
Aside from being nice to know that Catwoman does have some scruples, Oracle's swooning for Selina never stops being funny. The same goes for her responses to his affections.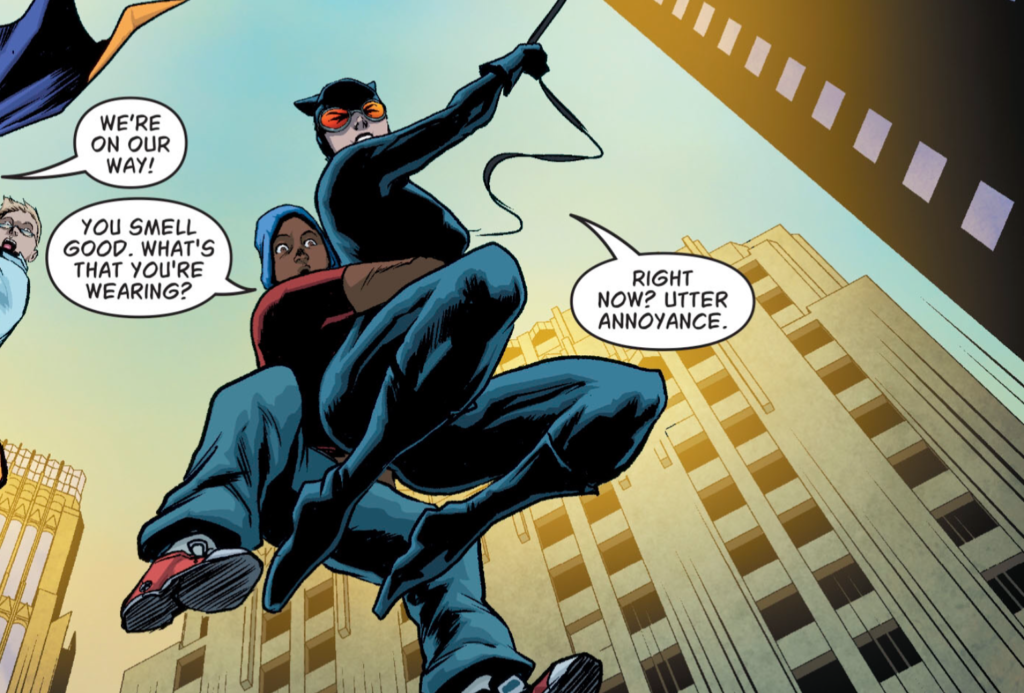 This story wasn't wrapped up this issue, so we get some more catty comments next month. It surprises me to say that I am looking forward to it. Then again, I look forward to Batgirl and the Birds of Prey every month.
Our Rating: YUS
Authors: Julie Benson and Shawna Benson
Artists: Roge Antonio and Allen Passalaqua
Publisher: DC Comics
Publish Date: 07/12/2017
Acquired via Purchase