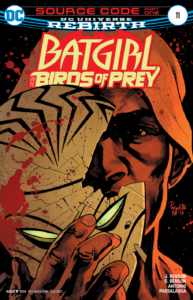 Nothing like starting a comic with three women dangling Oracle off the edge of the Clock Tower. There's no segue into it, no flashback, no panels explaining how they got to this point. It's just Black Canary and Huntress holding Gus by his feet with Batgirl supervising.
We've known since Gus joined the team that he hasn't entirely been on the up and up. He has mood swings, he appears to be addicted to pills, and he's only there because someone demanded that he find a way to join. What we didn't know was that despite everything Barbara has said about him up to this point, she didn't trust him either. She had been spying on him to the point of downloading all of his messages to her own computer. She found the message from mystery man demanding that Gus bring the girls to meet him.
And that is why Gus is literally staring down death. It's good thing he's a fast talker, or Huntress might really have dropped him.
Everything Gus said about being a huge fan of Oracle was true. He did use Oracle's name to get information and sell it to the highest bidder. That was how his current employer tracked him down and blackmailed Gus into working for him. He used Gus's talents to make even more money, and Gus in turn used his dirty money to get his mom out of debt. When the Birds of Prey were investigating this new Oracle, mystery man ordered Gus to use this to get into the group.
Who is this mystery man?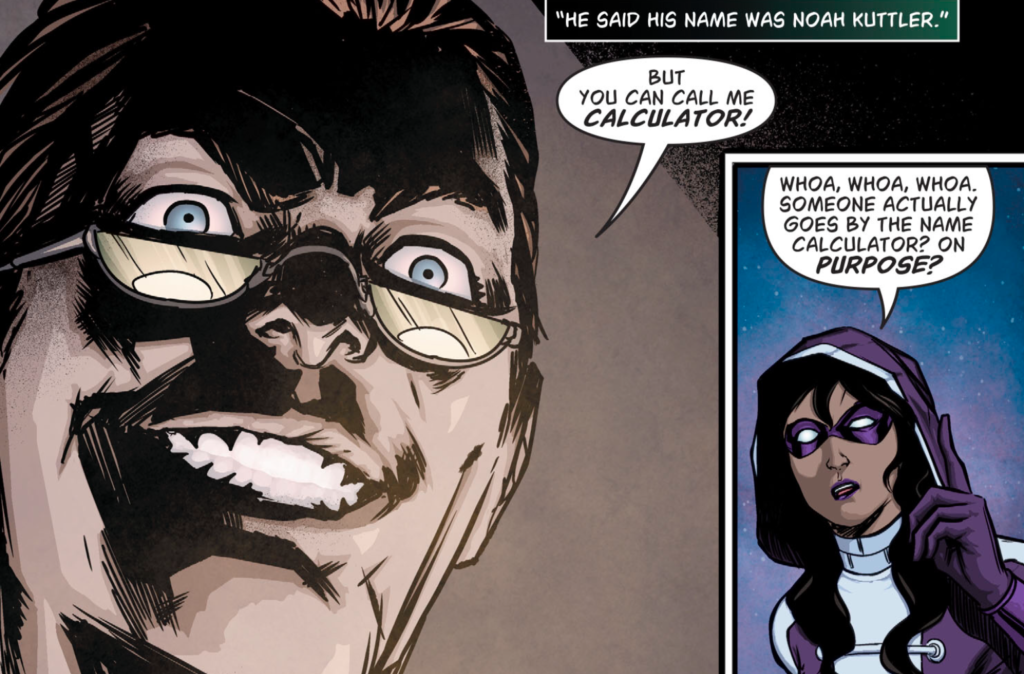 Batgirl knows who this guy is, so dumb name and all, he is legit. He tried to get close to Oracle before, but she and Black Canary took care of him years ago. Apparently he never learned his lesson, because he's doing bad guy things again AND he's still obsessed with Oracle.
The girls ripped into Gus for being a liar and essentially an all around bad person, blackmail or not. Gus said he did his best to put off Calculator, but when Calculator stole his pills, it became a top priority. Huntress was ready to read Gus the riot act for the pills since they were obviously black market. Everything changed when Gus confessed that he's bipolar, and Calculator convinced him to get the meds illegally to prevent any paper trails.
Suddenly it all makes sense, and all of the girls embrace Gus into their family.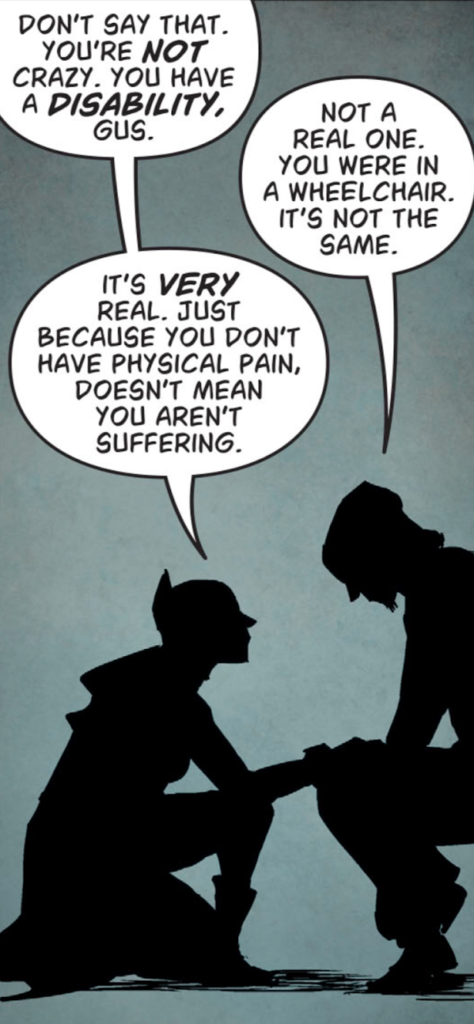 Mental health is a hot button these days, and Batgirl and the Birds of Prey tackled it beautifully. Each one of them, even Huntress, immediately empathized with him. They agreed to meet with Calculator, and they even agreed to help the villain as long as he releases Gus from the blackmail. I nearly teared up when Batgirl made those demands.
Even better, instead of making Gus's mental illness a big deal or the girls' reactions overly dramatic, the comic addressed Gus's health and moved on. No extraneous panels explaining why it was so important to be aware of mental health. They addressed it, they accepted it, they made a plan, and they moved on, just as they would have if Gus was in a wheelchair. It was absolutely perfect.
Personally, I just thrilled that Gus isn't leaving the team. I'd miss his witty narration way too much.
Our Rating: YUS
Authors: Julie Benson and Shawna Benson
Artists: Roge Antonio and Allen Passalaqua
Publisher: DC Comics
Publish Date: 06/14/2017
Acquired via Purchase